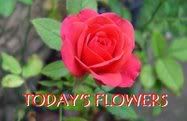 Today's Flowers
is founded by
Luiz Santilli jr.
In memory of my youngest brother, who would have been 58 years old today.
It is 4 years since he died of mole cancer. During his illness we talked about a dream many people have, about falling from a height. I never fall, he told me. I simply unfold my wings - and see the beautiful world from above. I often think of him like that. A free spirit, curious, artistic, a man who tried to see the big picture and not be stopped by small detailes. And still he never forgot that the big picture always is made of the same small detailes.
He was so brave that last year. I miss him so much.
This is a scheduled post, since I am on vacation. I will visit you later on! Have a wonderful TF Sunday!